Our History
My passion for cooking began at an early age in the kitchen of my grandmother, Carrie Cerino. I remember the meals she prepared with love, the wonderful aromas in her kitchen and the warm feeling of Italian hospitality as family and friends gathered to celebrate, share and enjoy her creations. Carrie was the matriarch of our family as well as an entrepreneur, opening her first bakery in 1948 and her first restaurant in 1960. She served customers as if they were friends dining in her home and she treated employees as if they were family. Customers came back again and again to be part of an extraordinary Italian dining experience.
As a graduate of the Culinary Institute of America I was taught by talented and experienced chefs from all over the world, yet I found the lessons I learned from my grandmother about this business and her unique approach to treating employees and customers could not be taught in a classroom. From the kitchen in her home to the kitchen in her restaurant, what I learned from my grandmother set my path in life and it continues to influence how I run my restaurants today.
I am very proud of Eddie's Pizzeria Cerino. Our customers can expect a unique blend of Cerino family recipes that Carrie cooked in her home and new recipes that reflect my personal culinary experience.  Over the years I learned to always start with quality ingredients, to never take shortcuts in the kitchen and to always strive to create a memorable meal. But what makes us unique is my goal to teach my staff the same lessons that I learned "growing up a Cerino" and making that part of our culture. We know that success is not simply serving delicious food, it's nurturing relationships and providing a consistently extraordinary dining experience.
Celebrate our Italian!   GATHER, SHARE & ENJOY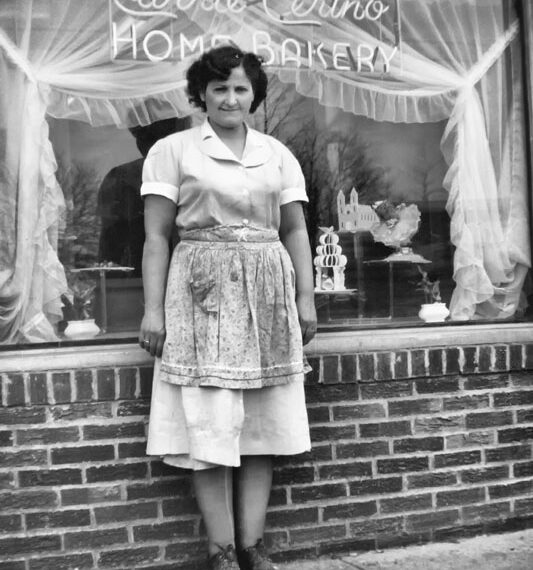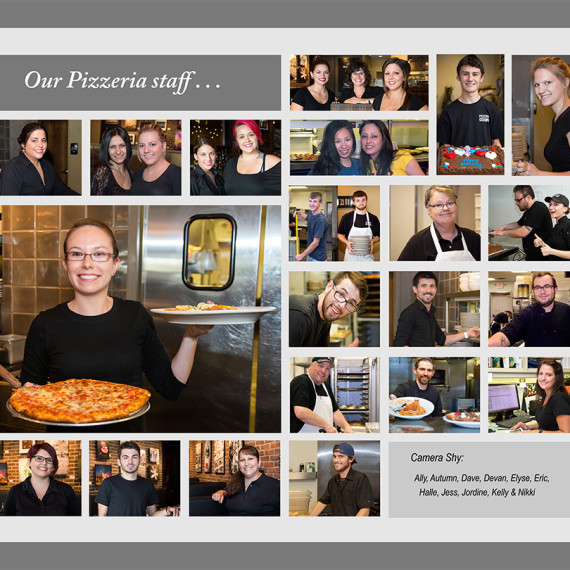 Our Team
Recreating Carrie's warm Italian hospitality begins with our staff. Taking essential lessons from my grandmother, we make it part of our culture at Eddie's Pizzeria Cerino. The recipe for success is not simply serving delicious food; it is nurturing relationships and providing a consistently extraordinary dining experience.
Larry Louis, General Manager
Our Pizzeria
The opening of the Pizzeria in early 2009 was very special to me. After nearly 25 years of opening & operating restaurants in northeast Ohio, the Pizzeria was a family enterprise with my wife Elisha, daughter Elise and son Ed Jr.
Our vision for the Pizzeria is to provide quality Italian food and pizza at reasonable prices along with creative special menu choices served in an inviting setting with genuine hospitality. We use high quality ingredients and hire professionals in our kitchen to make sure that our customers have plenty of reasons to visit regularly. Our catering menu provides several options for special events geared to both family and business occasions.
After 6 months we decided to expand our location and added Jr.'s Bar. The additional seating and 14 seat quartz bar was completed in November 2009 and has allowed us to provide an expanded craft beer, wine and inspired cocktail selections.
Our feature wall allows us to exhibit and sell local art from members of the Cleveland Photographic Society. The colorful and artistic prints have been a customer favorite since our opening and enhances the look and feel of our main dining room.
My grandmother, Carrie Cerino, taught me the importance of relationships with both staff and customers. Her example inspired in me the love of providing a great experience for gathering around a table with family & friends to enjoy delicious food and drink.
We look forward to you stopping in to gather, share and enjoy our Italian hospitality.